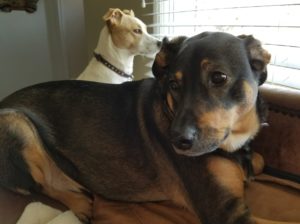 "Until one has loved an animal, a part of one's soul remains unawakened." Anatole France
Deborah provides animal insight and communication as an essential tool for all animal lovers.
An animal communicator can connect with an animal about health concerns, behavioral problems and changes, temperament issues and euthanasia. A client, through an animal communicator, can reassure and negotiate with their animal and also communicate with departed animals.
Deborah has worked with clients to strengthen their relationships with their animals and create positive outcomes in challenging situations. She speaks with respect, neutrality and from the heart to each animal. As an animal communicator, Deborah acts as an interpreter between the animal and the animal's caretaker (the client).
Therapeutic insight can be given to the client if so desired. Alternative therapy modalities, such as Reiki, Chinese Energetic Medicine and Body Dialogue are available upon request for both the animal and the client.
Contact Deborah and connect with her innovative therapies to remove traumatic blocks and gain empowerment in your life.