You are in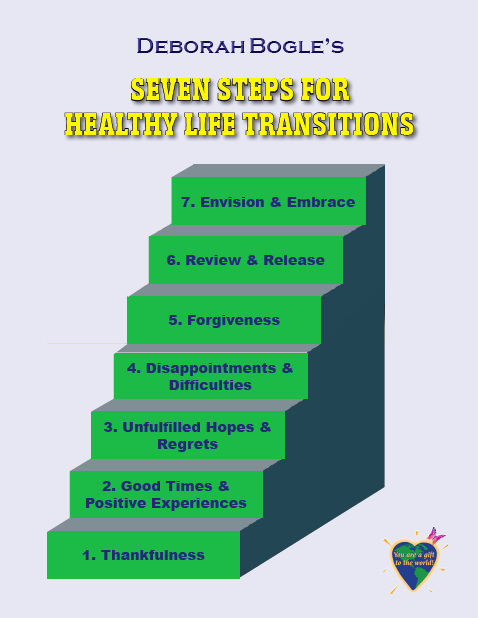 vited to download this free, step-by-step ebook,  "Seven Steps for Healthy Life Transitions".  This ebook guides you through seven steps that, combined, evoke a powerful releasing process.
These seven steps are to be used for releasing any person, place, organization, situation, experience or event that you feel has limited, or is limiting you, in any way and at any point of time in your life (including childhood).  It can also help you to transition successfully through life changes (or evoke needed change in your life) such as career changes, relationship break-ups, divorce, deaths, location moves, getting married or becoming a parent or grandparent.
In order to gain the most benefit from this releasing process, answer each question honestly and openly.  Write from your heart, as much as you feel and have to say, about each of the seven steps.  Feel free to repeat the seven steps as many times as you desire.  Forgiveness (step 5) is an essential element of this releasing process.
Please Note:  This is a helpful tool for you to use on your own to help release past hurts and to help you adjust through life changes.  It is by no means a replacement for therapy, life coaching or having a supportive network of friends and family.   Feel free to contact Helping Hearts Heal at 248-244-2060 for any questions or assistance in using this ebook.
Download your FREE Seven Steps for Healthy Life Transitions eBook (downloadable book of 10 pages) NOW!